Neurosurgery Conferences Readership Profiles: Key Metrics (Source: Google Analytics)
A statistical representation of global users for neuro-surgery.insightconferences.com(Source: Google Analytics)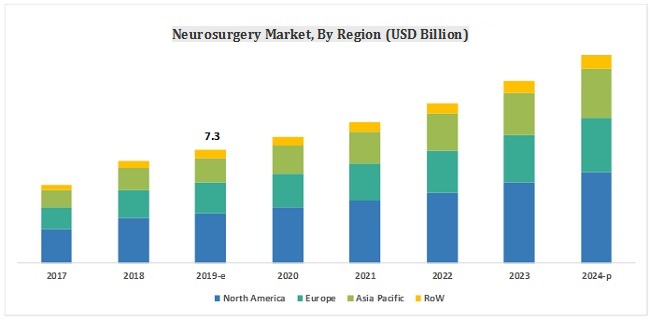 Recent developments and product approvals in the field of minimally invasive surgical procedures for the treatment of diseases associated with nervous system stimulate the growth of this market. For instance, in October 2016 Lars Leksell Gamma Knife Center in the University Health System became the first in the state, and one of the first in the country, to attain Gamma Knife, a technology that enables completely noninvasive brain surgery.
According to the latest survey conducted by WHO, it is revealed that Neurological Disorders encompassing Stroke, Alzheimer & Dementia, Epilepsy and many more accounts for more than 40% of deaths worldwide on an average and it is also predicted that the number of disability –adjusted life years vanished due to Neurological disorders are expected to accelerate from 95 million globally in 2015 to 107 million by 2024. Neurological disorder occurs approximately 152,000 times a year in the UK; that is stroke occurs every 3 minutes 27 seconds, where brain stroke plays vital criteria. First-time incidence of neurological disorder occurs almost 17 million times a year worldwide. There are over 1.2 million stroke survivors in the UK. Neurological disorder is the fourth single largest cause of death in the UK and second in the world. By the age of 75, 1 in 5 women and 1 in 6 men will have a Brain-stroke.
Neurosurgery involves the diagnosis and treatment of disorders that affect the nervous system including organs such as brain, peripheral nerves, spinal cord, and extra-cranial cerebrovascular system. Neurosurgery includes micro-vascular anastomosis, aneurysms clipping, spine surgery, microdiscectomy, artificial discs, laminectomy, craniopharyngiomas, endoscopic endonasal surgery, and stereotactic surgery. A range of surgical equipment, such as electrosurgical devices, forceps, and surgical sutures are used during the surgical treatment of neurological disorders.
The UK neurosurgery surgical equipment market was valued at $30 million in 2016, and is projected to reach $55 million by 2024, growing at a CAGR of 7.3% from 2016 to 2024. North America was the highest contributor to this market, with $35 million in 2016, and is anticipated to reach $63 million by 2024, registering a CAGR of 8.7%. Asia-Pacific is anticipated to reach $40 million by 2024 at a CAGR of 6.4%. North America and Europe segments collectively accounted for about 7.3% share of the neurosurgery surgical equipment market in 2016, with the former constituting around 6.5% share. Asia-Pacific and LAMEA segments are expected to witness significant growth rates at a CAGR of 6.7% and 7.5% respectively, during the forecast period. The cumulative share of these two segments was 7% in the neurosurgery surgical equipment market in 2016, and is anticipated to reach 8.4% by 2024.
Global Internet users for conferenceseries.com: Statistical representation (Source: Google Analytics)
Flip on the other side Conferenceseries world's leading specialist in organizing scientific conferences, events trade, and consumer exhibitions both domestically and internationally in different verticals and horizontals like Medical, Pharma, Engineering, Science, Technology and Business attracting more than 25 Million+ Visitors, 25000+ unique visitors per conference and 70000+ page views for every individual conference would help in quantifying our presenters research and biography visibility to the online communities and get recognized worldwide.
Conference Series Web Metrics at Glance: Source: Google Analytics
25 Million+ Visitors
25000+ unique visitors per conference
70000+ page views for every individual conference
Out of the 500,000 listing worldwide major conferences attended by 2.5 million attendees 16.8% attendees are drawing only from our Medical, Pharma, Healthcare, Nursing, Engineering, Science, Technology and Business conferences. The main reasons behind the increased popularity of our conference attendees is because of the changing mindsets of academicians, researchers and industries in exploring the opportunities for exchanging ideas, sharing resources, building networks and increase awareness of the on the recent happenings in their research around the world.
"Attending and presenting at conferences remains as the most favorable model of knowledge dissemination for researchers and practitioners to keep abreast of all advances in their field, presenting state-of-the-art research usually on a variety of subjects"
We will continue to set our bar higher and make further progress to organize 1000 conferences in 50 countries across all continents by 2018. We have recently launched online digital video library where all our conference proceedings would be shared and be accessed by the online communities freely.
Channels for driving additional traffic to your research
Web Analytics are best means of measuring concrete details like how many people are visiting our websites, how many of those visitors are the unique visitors and how many of them are staying long to view the complete information available in our sites. The following snapshots of some of our websites will clearly depict the metrics how our conferences stand at par to the other conferences in terms of Visibility, outreach, Participation Number and relevance to their subject.
The metrics of these websites represents more than 25+ Million visitors in addition to this we also equipped with 10 additional scientific websites represents 10+ Million visitors traffic to our conference websites.